BZBGear 4K UHD HDMI 2.0 over IP Multicast Transceiver with Video Wall & PoE Support
BZBGear 4K UHD HDMI 2.0 over IP Multicast Transceiver with Video Wall & PoE Support
BZBGear 4K UHD HDMI 2.0 over IP Multicast Transceiver with Video Wall & PoE Support
BZBGear 4K UHD HDMI 2.0 over IP Multicast Transceiver with Video Wall & PoE Support
BZBGear 4K UHD HDMI 2.0 over IP Multicast Transceiver with Video Wall & PoE Support
BZBGear 4K UHD HDMI 2.0 over IP Multicast Transceiver with Video Wall & PoE Support
BZBGear 4K UHD HDMI 2.0 over IP Multicast Transceiver with Video Wall & PoE Support
BZBGear 4K UHD HDMI 2.0 over IP Multicast Transceiver with Video Wall & PoE Support
BZBGear 4K UHD HDMI 2.0 over IP Multicast Transceiver with Video Wall & PoE Support
BZBGear 4K UHD HDMI 2.0 over IP Multicast Transceiver with Video Wall & PoE Support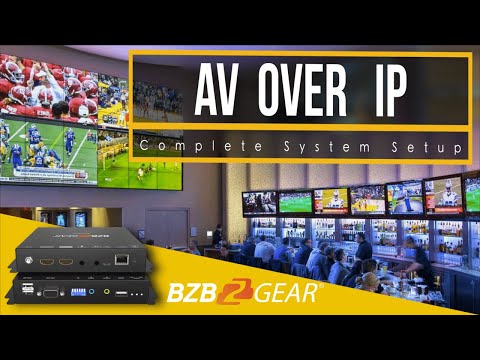 BZBGear 4K UHD HDMI 2.0 over IP Multicast Transceiver with Video Wall & PoE Support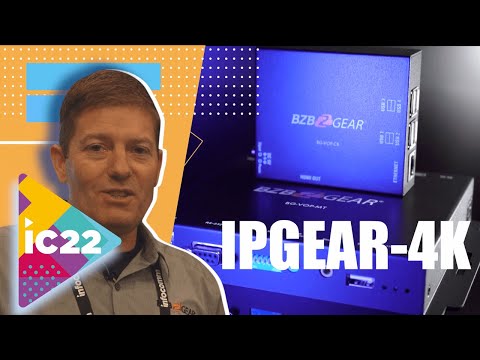 BZBGear 4K UHD HDMI 2.0 over IP Multicast Transceiver with Video Wall & PoE Support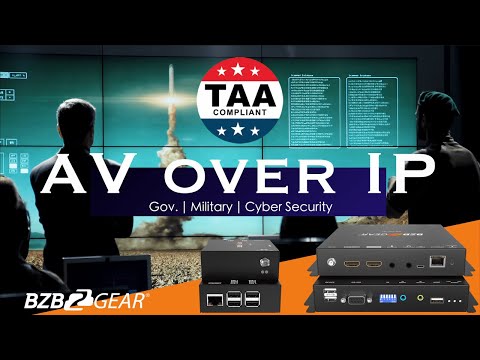 Product highlights:
TAA-compliant product
Can be configured as a transmitter or receiver
Flexible and scalable UHD video broadcasting
Up to 1,023 groups of multi-casting
180-degree and 270-degree clockwise image rotation
Latency: 1080p at 60Hz: 23ms
Easy dip switch matching for multi-casting group configuration
Wall mountable housing for robust installations
1 to 1, 1 to many, and multi-casting broadcasting architecture
Starting at $91/mo or 0% APR.
---
---
---
Need help deciding?
Contact us right now!
Call or chat with one of our experts.
In the box
BZBGear 4K UHD HDMI 2.0 over IP Multicast Transceiver with Video Wall & PoE Support
BZBGear 4K UHD HDMI 2.0 over IP Multicast Transceiver with Video Wall & PoE Support
IR Blaster Cable
IR Receiver Cable
User Manual
Limited 3-Year Warranty
BZBGear 4K UHD HDMI 2.0 over IP Multicast Transceiver with Video Wall & PoE Support
The BZBGear 4K UHD HDMI 2.0 over IP Multicast Transceiver with Video Wall & PoE Support is a transceiver that performs both encoding and decoding for BZBGEAR's IPGEAR-4K system.
Functionality
The device offers outstanding 4K UHD HDMI video transmission over IP and has support for PoE. This device is a keystone in providing digital signage, video walls, and video distribution in commercial settings.
Convenience
With the ability to function as a transmitter or receiver at the flip of the switch, this device is one of the easiest video-over-IP solutions to implement on the market.
Easy Setup
The BG-VOP-CB controller can auto-discover each BG-VOP-MT on the network, making for a painless setup process.
Compliance
Unlike most other video-over-IP solutions from competing manufacturers, the BG-VOP-MT is TAA-compliant, making this device an attractive choice for government use.
Support
It also provides a scalable solution so that you can easily add additional BG-VOP-MT units to your network at any time. This enables operators to create a fully customized HDMI matrix switching over IP.
Connectivity
In order to function, the BG-VOP-MT Transceiver requires the BG-VOP-CB Smart Controller. This device makes it possible to extend UHD sources from any HDMI source to any location with a LAN connection. Audio embedding and de-embedding are also supported for external audio devices. This transceiver is HDCP 2.2 compliant and supports PoE, bi-directional IR extension, and RS-232 extension.
Storage
You can store computers in a separate area from where their users interact with them, improving workspace productivity, security, and data protection. It also can greatly improve the quality of presentations where the podium may be far from the operating computer.
Broadcasting
The BG-VOP-MT is a complete UHD video broadcasting solution for digital signage. Point to Point, Point to Many, and Multicasting are supported broadcasting formats, meaning that one HDMI source can be broadcast to as many displays as necessary.
Customization and Adjustment
This also enables operators to create custom video walls. All settings can be adjusted via an easy-to-use web interface, and control can be achieved via the web interface or using our free downloadable iOS control app - BG-AVOIP-CONTROL. This transceiver is capable of being auto-addressed via the controller, or it can be addressed manually using its onboard DIP switches.
Design
This transceiver can fit well in many different environments, having dimensions of 7 x 5.5 x 3.2 inches. It also supports custom rack mounts and features a wall-mountable chassis.
Ratings and reviews
BZBGear 4K UHD HDMI 2.0 over IP Multicast Transceiver with Video Wall & PoE Support
BZBGear 4K UHD HDMI 2.0 over IP Multicast Transceiver with Video Wall & PoE Support
---